Iran's Perilous Pursuit of Nuclear Weapons
Iran's Perilous Pursuit of Nuclear Weapons
AVAILABLE NOW ! CLICK HERE
Based on three years of intensive research and analysis of the Nuclear Archives, this new book from the Institute presents a compelling account of Iran's secret plans to develop nuclear weapons.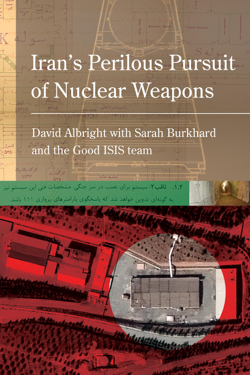 The Institute of Science and International Security's new book Iran's Perilous Pursuit of Nuclear Weapons chronicles the Islamic Republic of Iran's efforts to build nuclear weapons. The book draws from original Iranian documents seized by Israel's Mossad in 2018 in a dramatic overnight raid in Tehran. The "Nuclear Archive" allows deep insight into the country's effort to secretly build nuclear weapons. The book relies on unprecedented access to archive documents, many translated by the Institute into English for the first time.
The first part of the book concentrates on Iran's crash nuclear weapons program in the early 2000s to build five nuclear weapons and an industrial complex to produce many more. By 2003, responding to growing pressure from European powers to freeze its publicly known nuclear programs and fearing a possible U.S. military attack, Iran's leaders decided to downsize, but not stop, their secret nuclear weapons effort. The second part of the book discusses Iran's nuclear path post-2003, revealing a careful plan to continue nuclear weapons work, overcome bottlenecks and better camouflage nuclear weapons development activities.
Since 2003, the Islamic Republic's nuclear scientists and weaponeers have concentrated on establishing capabilities to make weapon-grade uranium and developing more reliable, longer-range ballistic missiles. Work on the nuclear weapon itself also has continued. Given how much Iran learned about building nuclear weapons during its crash program, combined with its post-2003 accomplishments, the country has developed a sophisticated capability to make nuclear weapons.
Iran appears to have a program to be prepared to make nuclear weapons and to do so on short order. Rather than a crash nuclear weapons program, Iran threatens the world with a program ready to produce nuclear weapons "on-demand." Iran's nuclear weapons capabilities pose great risks. If Iran detonates a nuclear explosive or demonstrates possession in another way, nuclear-tipped ballistic missiles are sure to follow at a later date. The Middle East will become more dangerous and far less able to walk back from the nuclear precipice. Nuclear non-proliferation and disarmament efforts throughout the world could suffer irredeemably.
The story of Iran's pursuit of nuclear weapons is nearing a climax. Iran's Perilous Pursuit of Nuclear Weapons is a richly illustrated and comprehensive assessment of Iran's nuclear weapons activities and the country's longstanding subterfuges. It contains much new information and analysis, invaluable in any discussion of the most effective ways to ensure Iran does not build nuclear weapons, indispensable for all those concerned about the spread of nuclear weapons, arms control, and the future of the Middle East.
TO READ THE 19-PAGE HIGHLIGHTS AT NO COST, CLICK HERE.
THE BOOK IS AVAILABLE AS A PRINT-ON-DEMAND BOOK AT POLITICS AND PROSE BOOKSTORE AT https://www.politics-prose.com/book/9781624294006.
Stolen records show Iran overcoming key hurdles in 2003 quest for a nuclear bomb, book says – Joby Warrick, The Washington Post, May 14, 2021